Google Offers Folding Bikes To 2000 Employees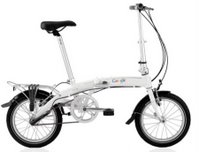 by Larry Lagarde
On December 15, 2006, I reported that IKEA UK was giving away
9000 folding bikes
to employees. Since then, I have been waiting to see which company would be next in line with a similar program; I received the answer today: Google.
Per a story by Mark Sweney in the
Guardian Unlimited
(website for The Guardian, a full color UK newspaper similar to USA Today), 2,000 of Google's permanent employees in Europe, the Middle East and Africa will be offered bicycles and free bike helmets to commute to work. If every employee accepts Google's folding bike, the total value of bikes and helmets being given away will exceed US $1,400,000.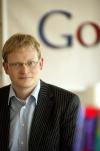 According to the Guardian, Holger Meyer is the guy behind the idea. One of Google's top marketing guys in Europe, Holger was hired away from Alta Vista (anyone remember that search engine) back in 2001 and has been pivotal in building Google Germany's profitability to one of the best margins in Google's international operations. No doubt it was this track record that convinced Google to give the bike idea a go. (Photo right: Holger Meyer)
When asked about the bike giveaway, Liane Hornsey (Google's human resources director for Europe, Middle East and Africa) said "We try to innovate not just in technology for users but in the benefits we give our employees... (and) think that these amazing bikes will help Googlers keep fit and healthy, get to know their city better and reduce the environmental impact of their journey to work."
Both bikes and helmets will be branded with Google's simple, multi-colored text logo.
Labels: corporate health, fitness, folding bicycle, folding bike, gift giving, Google, green living, health, health care, healthy workforce, IKEA